Posts for tag: x-rays
By Denmark Family Dentistry
May 19, 2019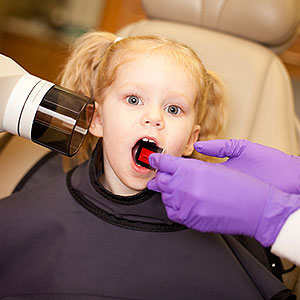 X-ray imaging is such an intricate part of dentistry, we usually don't think twice about it. Without it, though, the fight against dental disease would be much harder.
At the same time, we can't forget that x-rays are a form of electromagnetic radiation that can penetrate human tissue. It's that very quality and the difference in the absorption rate between denser bone and teeth and softer diseased tissue that makes disease diagnosis possible.
But this same penetrative power can potentially harm the tissues it passes through. For that reason when practicing any form of x-ray diagnostics, dentists follow a principle known as ALARA, an acronym for "As Low As Reasonably Achievable." In lay terms ALARA means getting the most benefit from x-rays that we can with the lowest dose and exposure time possible.
While practicing ALARA with x-rays is important for patients of any age, it's especially so for children who are more sensitive to radiological energy given their smaller size and anatomy. We can't use the same settings, dosages or exposure times with them as with an adult.
To protect children, dentists have developed techniques and protocols that lessen their exposure time and rate, while still providing usable images for diagnosing disease. The bitewing is a good example of safe and effective pediatric x-ray imaging.
A bitewing is a plastic device holding exposable film that patients bite down on and hold in their mouth while x-raying. The x-rays pass through the teeth and gums and expose the film behind them on the bitewing. Using a bitewing we can capture a set of two to four radiographs to give us a comprehensive view of the back teeth, while exposing the child less radiation than they normally receive daily from background environmental sources.
This and other advances in equipment and digital imaging greatly reduce the amount of radiation patients receive during x-rays. If, though, you're still concerned about your child's x-ray exposure, talk with your dentist who can explain in more detail the x-ray safety protocols they follow. Just like you, they want your child to be as safe as possible while still benefiting from the diagnostic power of x-rays.
If you would like more information on safety precautions using x-rays with children, please contact us or schedule an appointment for a consultation. You can also learn more about this topic by reading the Dear Doctor magazine article "X-Ray Safety for Children."
By Denmark Family Dentistry
June 01, 2015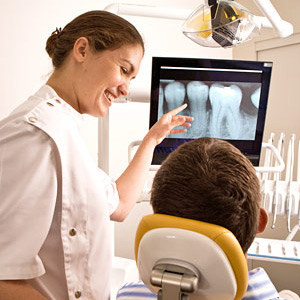 X-rays are an important diagnostic tool in dentistry because of their ability to penetrate and pass through body tissues. Because they penetrate at different speeds depending on tissue density (shorter and thus darker on exposed film for soft tissues, longer and lighter for hard tissues like bone or teeth), we're able to detect decay which appear as dark areas on x-ray film.
Without x-rays, the early detection and diagnosis of dental problems would be quite difficult. But despite its obvious benefits, it's still a form of released energy that exposes patients to a certain amount of radiation. Since the potential health risk from radiation depends on the amount released (the dosage) and for how long and often a person is exposed, we must determine if the dosage and frequency from dental x-rays is a cause for concern.
It's a common misconception to view any radiation exposure as dangerous. The truth is, however, we're all exposed daily to radiation from the natural environment — about 2 to 4.5 millisieverts (the dosage measurement for radiation exposure) a year, or about 10 microsieverts (one-thousandth of a millisievert) every day.
In comparison, radiation exposure from routine dental x-rays is a fraction of this if measured over time. A set of four bitewing images of the back teeth produces 4 microsieverts of radiation, less than half the average daily exposure. One of the most comprehensive x-ray sets, a full mouth series of 18-20 images using "D" speed film, results in an exposure of 85 microsieverts, equaling about a week of normal radiation exposure.
These thoroughly researched rates help demonstrate that regular dental x-rays are relatively safe. What's more, x-ray technology has continued to advance since first used in the mid-20th Century. With innovations in film and digital processing, today's equipment produces only 80% of the radiation exposure of earlier machines. In effect, we've increased our capabilities to more accurately detect and diagnose issues through x-rays, while lowering the amount of radiation exposure.
Of course, a person's annual exposure rate may differ from others. If you have concerns for yourself or your family about x-ray radiation exposure, please feel free to discuss this with us. Our primary goal is to improve your oral health without undue risk to your health in general.
If you would like more information on x-ray diagnostics and safety, please contact us or schedule an appointment for a consultation. You can also learn more about this topic by reading the Dear Doctor magazine article "X-Ray Frequency and Safety."