Posts for tag: dentures
By Denmark Family Dentistry
October 20, 2020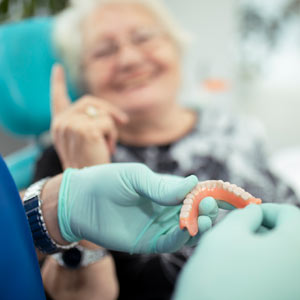 Although teeth are quite durable, we can still lose them—even all of them—to disease or injury. The good news, though, is that we have effective ways to restore teeth after they're lost. One of these, the removable denture, has given people their teeth back for several generations. And with recent advances in technology, today's dentures are even better.
Although more advanced, today's dentures share the same basic structure as those from a century ago: prosthetic (false) teeth set in a plastic resin colored to resemble the gums. The traditional denture is molded to fit snugly over an individual patient's alveolar jaw ridges, which once supported the former natural teeth. The denture stays in place primarily through a suction effect between the denture and the ridges.
Modern technology, though, has greatly improved today's dentures. Digital imaging can be used to generate highly accurate impressions of the dental ridges that can lead to denture bases with better fit. Dentists using photographs of the patient, especially in earlier years, are better able to identify facial landmarks, which enables them to position the new teeth to more closely recreate the patient's former smile.
These technological aids now help dentists to create more attractive dentures with better support and comfort. But the fit that makes this possible may not last due to a particular weakness inherent in traditional dentures—continuing bone loss. When teeth are missing, the underlying jawbone can lose bone volume over time. Dentures don't stop this process and can accelerate it due to constant friction and pressure on the dental ridges.
But a new modification incorporating dental implants with dentures can help solve these problems. By placing a few strategically positioned implants in the jawbone that then connect with the denture, the appliance not only gains more stability, but also produces less pressure on the dental ridges. In addition, bone cells naturally grow and adhere to the titanium implant posts, which helps to stop or slow bone loss.
If you've experienced total tooth loss, dentures are an affordable and effective option. Thanks to modern dental advances, you can get back the smile and dental function you once lost.
If you would like more information on denture restorations, please contact us or schedule an appointment for a consultation. You can also learn more about this topic by reading the Dear Doctor magazine article "Removable Full Dentures."
By Denmark Family Dentistry
November 21, 2015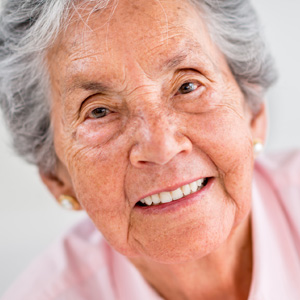 For people with edentulism (total loss of teeth), removable dentures is a viable option for regaining both lost function and an attractive appearance. From the moment they begin wearing them, denture wearers can chew food, speak and smile with confidence.
But there are downsides to dentures, especially if they're not cared for properly. Dentures put pressure on the gums and bony ridges of the jaw, which can cause bone to dissolve (resorb) and decrease its volume over time. Without proper maintenance they can also become a breeding ground for bacteria and fungi that not only lead to bad breath but, in cases of partial dentures, can increase the risk of dental disease. They could also contribute to serious systemic diseases.
You can reduce some of these risks by following these 3 important denture maintenance tips. Doing so will help extend the life of your dentures, as well as keep your mouth healthy.
Clean your dentures at least once a day. In addition to taking your dentures out and rinsing them with water after eating, you should also brush them daily with dish detergent, antibacterial soap or denture cleaner — but not toothpaste, which is too abrasive. Effervescent (fizzing) cleaning tablets also aren't a viable substitute for manual brushing in removing disease-causing plaque from denture surfaces.
Take your dentures out at night while you sleep. Wearing dentures 24/7 can hasten bone loss, as well as increase your chances of dental disease or even more serious illnesses. A recent study, for example, found nursing home patients who left their dentures in at night were twice as likely to experience serious complications from pneumonia as those who didn't. While you sleep, store your dentures in water or in a solution of alkaline peroxide made for this purpose.
Brush your gums and tongue every day. Keeping your gum surfaces clean will help reduce the levels of bacteria and other microbes that can cause disease. You can either use an extra-soft tooth brush (not the one you use to clean your dentures) or a damp washcloth.
If you would like more information on caring for dentures, please contact us or schedule an appointment for a consultation.
By Denmark Family Dentistry
September 08, 2014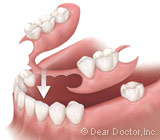 While dental implants are the preferable choice for teeth replacement, your life circumstances may cause you to postpone it or some other permanent restoration. In the meantime, you need a temporary solution for your tooth loss.
Removable partial dentures (RPDs) have met this need for many years. RPDs are traditionally made of rigid, acrylic plastic resin and fasten to existing teeth with metal clasps. While effective as temporary tooth replacements, RPDs do have their drawbacks: they can be uncomfortable, develop a loose fit and are prone to wear and staining.
Recently, though, new RPDs made of a flexible type of nylon are addressing some of these drawbacks. Because the nylon material is thermoplastic (able to change shape under high heat), it can be injected into a cast mold of a patient's mouth to create the denture base, to which life-like replacement teeth are then attached. And rather than a metal clasp, these RPDs have thin, finger-like nylon extensions that fit snugly around existing teeth at the gum line.
The new RPDs are lightweight, resistant to fracture and offer a more comfortable, snugger fit than the older RPD. And because the nylon material can be made to closely resemble gum tissue, the base can be designed to cover receding gum tissue, which may further improve the appearance of a patient's smile.
On the downside, these new RPDs are difficult to reline or repair if they're damaged or the fit becomes loose. And like all RPDs, they must be regularly removed and cleaned thoroughly to prevent any accumulating bacterial biofilm that could increase the risk of gum disease or tooth decay (the attachment extensions are especially susceptible to this accumulation). They should also be removed at night, since the reduction in saliva flow while you sleep can worsen bacterial buildup.
Still, the new flexible RPD is a good choice to bridge the time gap between lost teeth and a permanent restoration. They can restore lost function and improve your smile during the transition to implants or a fixed bridge.
If you would like more information on temporary tooth replacement, please contact us or schedule an appointment for a consultation.