Posts for: September, 2020
By Denmark Family Dentistry
September 20, 2020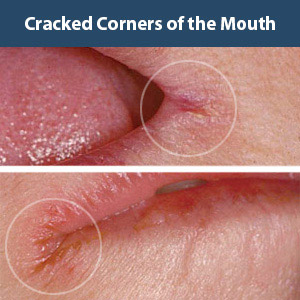 Ever have a paper cut or an irritated hangnail? They're not considered major health problems, but, boy, can they sting!
Something similar can occur in the corners of your mouth called angular cheilitis. It's also known as perleche, from the French word "to lick" (a common habit with this type of sore). It can occur at any age, with children or young adults developing it from drooling during sleep or orthodontic treatment.
Older adults, though, are more prone than younger people for a variety of reasons. Age-related wrinkling is a major factor, especially "marionette lines" that run from the mouth to the chin. Dried or thinned out skin due to exposure from cold, windy weather may also contribute to perleche.
Perleche can also develop from within the mouth, particularly if a person is experiencing restricted salivary flow leading to reduced lubrication around the lips. Poorly cleaned dentures, weakened facial supporting structure due to missing teeth, vitamin deficiencies and some systemic diseases can all lead to perleche. And if an oral yeast infection occurs around the cracked mouth corners, the irritation can worsen and prolong the healing process.
To clear up a case of cracked mouth corners, you should promptly see your dentist for treatment. Treatment will typically include some form of antifungal ointment or lozenge applied over a few days to clear up the sores and prevent or stop any infection. You might also need to apply a steroid ointment for inflammation and other ointments to facilitate healing.
To prevent future episodes, your dentist may ask you to use a chlorhexidine mouthrinse to curb yeast growth. If you wear dentures, you'll need to adopt a regular cleaning routine (as well as leaving them out at night). You might also wish to consider updated dental restorations or orthodontics to improve dental support, and help from a dermatologist if wrinkling might be a potential cause.
Cracked mouth corners won't harm you, but they can make for a miserable experience. Take steps to relieve the irritation and any future occurrence.
If you would like more information on angular cheilitis or similar oral conditions, please contact us or schedule an appointment for a consultation. You can also learn more about this topic by reading the Dear Doctor magazine article "Cracked Corners of the Mouth."
By Denmark Family Dentistry
September 10, 2020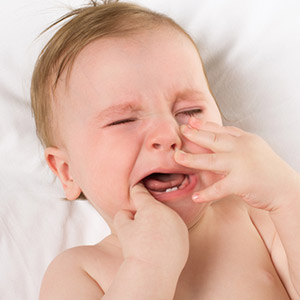 Parents have been dealing with their children's teething pain for as long as parents and children have been around. Along the way, the human race has developed different ways to ease the discomfort of this natural process of dental development. While most are good, common-sense measures, one in particular needs to be avoided at all costs—applying topical oral products to the gums containing Benzocaine.
Benzocaine is a topical anesthetic often found in oral products like Anbesol, Orajel or Topex to help ease tooth pain or sensitivity. The agent can be found in gel, spray, ointment or lozenge products sold over-the-counter. As an analgesic, it's considered relatively safe for adults to use.
But that's not the case with infants or younger children. Researchers have found a link between Benzocaine and methemoglobinemia, a potentially fatal blood condition. Methemoglobinemia elevates the amount of a hemoglobin-like protein called methemoglobin, which in high concentrations can lower oxygen levels being transported to the body's cells through the bloodstream.
Because of their smaller anatomy and organ systems, younger children can have severe reactions to increases in methemoglobin, which can range from shortness of breath or fatigue to seizures, coma or even death. That's why you should never use products with Benzocaine or similar numbing agents to ease teething pain. Instead, follow these common sense practices:
Give your child chilled rubber teething rings, wet washcloths or pacifiers to chew or gnaw on. The combination of cold temperatures and pressure from biting on them will help ease the pain. Just be sure the item isn't frozen, which could cause frost burns to soft tissues.
For temporary relief from soreness, gently massage your baby's gums with a clean, bare finger or with it wrapped in a clean, wet cloth. The massaging action helps counteract the pressure of the incoming tooth.
For intense episodes of teething discomfort, ask your healthcare provider about using an over-the-counter pain reliever like acetaminophen or ibuprofen. Be sure you use only the recommended dose size for your child's age.
Teething is in many ways like a storm—it too shall pass. Be sure you're helping your baby weather it safely.
If you would like more information on dealing with teething pain, please contact us or schedule an appointment for a consultation.